About Petunia
Friendly to other dogs
Good for Small & Large Spaces
Extremely loving & sweet
Hi I'm Petunia a pretty little princess with paws, who loves to play, give kisses and have plenty of love to go around!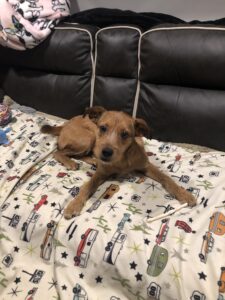 Gender: Female
Weight: 15 lbs
Age: 10 months
Breed: Mixed (Small)



My story:
I was originally adopted and had a home with other fur babies until one day my now ex-dog Mom fell onto hard times with illegal substances. So one day she dropped us all off at the shelter and left us to survive! I was rescued by @BirdiesDoghouse and pray all my siblings made it out too!
Happy & energetic
Loves to play with toys and seems to chase a ball
Walks on a leash
Sweet and loving (gives kisses)
Wants pets & will cuddle!
Adapts to other dogs VERY WELL! And doesn't seem to mind the cat at all!
Seems to be potty trained (had one accident so far inside – pee pee the next morning after coming home from the shelter but slept the whole night roaming free with no issues!)
Was scared on the car ride home and of course loud noises (but stayed in my arms, clawing me up holding on tight for the hour long trip back home) seemed to calm down after a while but we were in a loud diesel truck/van!
Ate treats immediately from my hand!
Had to hand feed to start dry (blue buffalo) dog food but eventually started eating out of the bowl!)
Crapped on my arm on the way home but understood— and we pulled over she walks on a leash pooped and peepeed immediately
Only heard her bark once (I think)
Was running around the back yard with the other dogs immediately once we got home and let her outside!
Gave her a bath immediately she did okay tried to get out once or twice but she's will stand there and is okay as long as you're soaping her just the water scared her some. But she will prob calm down with more practice
We cut her nails at the shelter (some) they're still sharp daggers and my entire body is proof!!! But she was really good about just sitting there and letting you cut them!
Her hair is wiry and doesn't seem to shed much after her initial bath.
Can tell she just is happy to be out of the shelter, with a family/home and have love, cuddles, treats, toys, other dogs and she's a little playful girl! Super sweet!!!!
**** INTERESTING STORY **** 
Petunia & Krypto are brother & sister! They came from the same household and presumably the same mother or father (a year or so apart)! Krypto is 2 years old and Petunia is only 10 months!